Evolution of India PR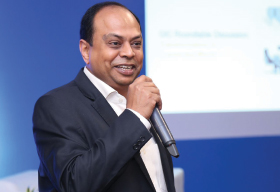 Headquartered in Sunnyvale, NetApp is a hybrid cloud data services & data management company offering a full range of hybrid cloud data services that simplify management of applications and data across cloud and on-premises environments to accelerate digital transformation.
As a company spokesperson, I am constantly trained and coached on what to say where and how to say it - so that the friendly journalist who has agreed to meet me will be able to derive a newsworthy snippet. I've also taken to social media in the last couple of years or so. I find that while we continue to discover and explore the medium, it allows others to discover and explore us as like-minded people, technologists, evangelists and human beings. These denominations are the foundation of traditional PR with a twist of two-way communication and opening-up yourself to critique of all kinds. With traditional earned PR, I greatly admire the way we polish our message till it shines, build real-life relationships and the gratification when finally something is published!
The digital revolution has caused a storm of data, which is very good for all of us. This is especially so for my company, as we manage the world's data and help customers derive the business value from it. The change has affected our lives in the way we consume information, sift through it, and find ways to keep up with it.
Here are three changes that I have witnessed, specifically over the past seven years.
1. Crisp and genuine conversations have become de'force, especially in the tech industry. There is no way we can get away with living in siloes or using a dramatic 'no comments'. There is no way anyone will read long winding articles on their cellphone(or otherwise). In the era of binge watching, even a corporate video has to be that much more impactful and of high-production value. The prescription is to be crisp, to the point, and genuine. Market evolution cycles have become shorter and companies are being born and dying with equal force. Keeping ourselves relevant and real is the only way to take any conversation forward with media.
2. Journalists have become generalists too, and have to wear multiple hats much as we
do. Frugal budgets, blurring lines, and tight timelines mean that most journalists are covering more than one 'beat'. Business journalists are covering startups, and startup journalists also cover tech. This is also seen in the IT industry where the X-administrator is a person who is the all-in-all generalist to manage the technology to run an enterprise. We are responding to this phenomenon in the tech industry by reducing the number of 'dials'. By giving a better view of the information the administrator needs without having to develop a deep understanding of the tech inside the box. The same approach works for media too. Give them what their audience will read without the nuts and bolts of your story.

3. Social media has made its mark – but not without help from traditional media. Did we think at some point that Social media would become a credible source of all information? Look at what fake news did! Ungoverned social media is a menace that governments and social media companies are trying to clean-up. So, while we reap immense rewards from its egalitarian nature, social media cannot survive on its own. It is a hungry beast and constantly needs updates, and in the hurry to feed it, we may end-up feeding it a piece of ourselves - an arm or a leg! On the other hand, social media can do a great job of broadcasted or published information and make it reach a much wider audience. Therein lies the need to understand the pitfalls and pleasures of the medium to be used as a PR tool.

" Earned PR has just one foundation: it takes time to build a reputation. This is one evergreen trend, and even as the industry evolves, will never fade "

Continuing with the above observations, I also foresee the following trends in 2019 for the PR industry and how we interact with it.

1. Only quality media startups will conquer all. With the Indian startup scene maturing in the consumer space - post a painful but necessary shakeout, it is the season for a shakeout in media-based startups. While the last year or so witnessed the proliferation of online portal-like media startups, this year we will see the cream rise to the top. Again, India is uniquely positioned to leapfrog with wide vernacular, as well as niche urban access on smartphones. Stellar content and sincere research on relevant topics will combine forces with search optimization and powerful visuals to nurture the winners in this case. Bringing a fresh perspective to the way news is relayed and conversation are carried will make some media startups stand out of the crowd.

2. AI will force us to write better & impactful writing will return. AI is not coming to steal media jobs. If anything algorithms and deep learnings from data now available to media will help them focus their energies. Shrinking attention spans and AI-based reporting will induce us humans – media as well as spokes people, to polish our craft. Long flowery adjective laden prose is passe and we will need to sharpen the words – use less of them, to create impactfully written pieces that convert thoughts to action, rally people around agendas, and bring a real change to the world.

3. Bold statements will need to follow-up with action. Never again will anyone get away with headlines like 'We are targeting to harness the minds of the 1.2 billion population pie of India'. Without following through, big bold statements will fall flat. Worse, they will come back to bite you. Media has never been kind to big fat lies, but now with all your news history a word-search away, be prepared to get roasted. Ergo,'be yourself' is a mantra for all of us.

In the end, earned PR has just one foundation: it takes time to build a reputation. This is one evergreen trend, and even as the industry evolves, will never fade.