Thar Interior Designers: Deciphering the Unprecedented Areas of Workplace Designing through Impeccable Space Management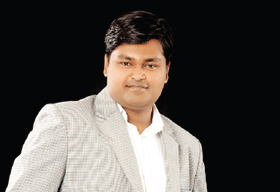 One of the very few companies in India that keenly focuses on office interiors, Thar leverages the expertise of a Singapore-based design team that specializes in space management and contemporary designs, in addition to the deep-rooted prowess of its in-house designers, to bestow technically sound aesthetic workplaces which bring that 'wow' factor with its methodical space management features. Needless to say, with skyrocketing lease & rental costs, Thar's impeccable space management practice is nothing less than an elixir to its clients.
The Next Level of Design Practices
Thar's anecdote is all about focus and passion. Incepted by Malchand Jain in 1993 as a small office design consulting company, Thar over the years has grown into a one-stop office space solutions provider for corporate houses regardless of the size. Molding highly innovative workplaces being its forte and passion, today, the company not only designs & handovers futuristic & dynamic workplaces within the budget & stipulated time limits, but also offers free maintenance for one year and warranty for all its products. From finding office space for clients to presenting designs & technical details and eventually handing over a futuristic plug & play office where they can be more productive and achieve their goals, Thar encrusts over a wide horizon of offerings and thus ascertaining that its clients never knock any other door.
"Ours is an occupier focused company that caters to only occupiers, never landlords. Thus our clients can be assured of no potential for conflict of interest with cutting-edge technology, which in turn results in highly futuristic and people friendly designs. For us, design is the means," asserts Hitesh Jain, Managing Director, Thar Interior Designers. When it comes to Thar's interior designs, the foremost priority always lies in comprehending the client's requirements in detail. The company weaves its designs around the discrete requirements of clients with no prejudice, while always ensuring that the functionality and aesthetics come in sync with each other, and it never shies away from leveraging the expertise of international designers to ensure that the clients never miss out on globally trending designs. But even after having perfect designs in place, the gap between design and final outcome has been a major predicament in the yester-years, which consistently happens owing to the 2D rendering of 3D designs. To eradicate this gap and give a rich experience to clients, Thar adopts VR Technology through which the client with the help of a VR Headset can take a virtual tour of the entire office and have a hands-on feel of it.
From Concept to Keys
Consisting of a team comprised of passionate Architects, Contractors, Project
Managers, Engineers and experienced Subcontractors (licensed by government), Thar further entitles its clients with a wide range of services including space management consulting, handling advanced HVAC Systems with climate control & VRV technology, and Electrical design & execution in line with local government norms & National Electric Code, alongside CISCO & TYCO approved Data & Voice Networking framework which offers trouble free data network. Wonder how many companies cover such an expansive spectrum! Furthermore, Thar is also a wizard in building highly futuristic modular workstations, exposing its clients to an entire gamut of products like modular Cubicles, Storage Units and Office Furniture, which are built in its own factory in Bangalore that spreads across 25,000 sq. ft.., leveraging high-end German machines. This in fact helps the company to maintain intact quality criteria in all its offerings.
Our clients can be assured of no potential for conflict of interest with cutting-edge technology, which in turn results in highly futuristic and people friendly designs
"We also have collaboration with numerous companies for purchasing raw materials required for projects, and most of them are directly sourced from factory outlets, which helps us in ensuring quality and keeping our price competitive," adjoins Hitesh. Indeed, Thar is extremely determined in following a strict quality control policy, and in turn using industry leading products, which has been the secret sauce for the company to guarantee quality & durability of every inclusion in the project. However, these quality products are carefully installed and executed under the aegis of a dedicated team of project managers who focus only on one project at a time, and this eventually culminates in clients savoring a trouble free and less maintenance-required office.
Ensuring quality, and environment friendliness over the last few years has become a matter of supreme importance in interior design business; but in reality, there are only a handful of designers who make sustainable choices. Excelling even among those few is Thar. The firm works in tandem with LEED (Leadership in Energy & Environmental Design) Consultants who help the company choose LEED Certified products which are absolutely environment friendly. The company has set new benchmarks in the industry by strictly using eco-friendly LED Lights in all its projects, and hence saving energy and power costs big time. On the other hand, by using VRV & VRF technologies for office air-conditioning, which save both power and money, Thar takes eco-friendliness to the next level. As most of the international clients are particular about having sustainable offices, it's not surprising that 50 percent of its customers are international organizations.
En Route to Future
"Over the past two decades, Customer Satisfaction, Teamwork, Integrity and Excellence are our core values that helped us get repeated orders and prestigious awards. While going forward, we will keep on travelling abreast of the trends, but will never compromise on these values,"adds Hitesh. Thar's team continuously attends international fairs like CANTON fair in China, and International Furniture Fair in Italy to keep themselves updated with new products and technologies being introduced globally. Additionally, since the 85 people strong workforce is provided with the power to take decisions, sky is the only limit to their growth.
En route to the future, the company has already set huge expansion plans, and is now looking forward to bank on external funding, and in turn doubling its revenue within three years from now. "We intend to become one of the leading design & build company in India by gripping cutting-edge technologies and providing our customers with a comprehensive one-stop-solution for all their office designs& build requirements," concludes Hitesh. Thar has always taken care to evolve with time and technology. One of the perfect examples being its latest automation aimed endeavor to create a cloud management app which will provide clients with the access to daily progress of the project and live view of the same through CCTV cameras. With process being more transparent, Thar makes its intentions clear - Serving clients better. Period.
Key Management:
Malchand Jain, Founder
Quality is Malchand's passion, and planned & systematic approach is his habit. He has a deep rooted experience in handling time bound turnkey projects and has also received appreciation mementos from former Prime Minister HD Deve Gowda and Flowserve India MD.
Hitesh Jain, Managing Director
After completing a Project Management & Interior Design course, Hitesh joined the firm in 2004 and since then has been involved in handling projects for Sasken, Louis Vuitton, RBI, and Flipkart and has gained a rich experience & knowledge in executing turnkey interior projects with high quality workmanship.
Offices:
Bangalore (Headquarter), Chennai and Singapore
Awards & Recognition:
• Award received from Former Prime Minister Shri HD Deve Gowda for Excellent performance and Design for HDCC Ltd Project
• Award Received from US Based Company Flowserve India Managing Director for Excellent Design and Timely Completion
• Appreciation Letter received from US Based Company Magnitude Software for Excellent Design and Timely Completion