Benir E Store Solutions: Redefining the Office Supplies Industry by Blending the Best of West & East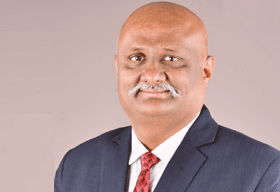 For an instance, the contracts could be for packets worth Rs. 20, but the clients receive pieces worth Rs.2 and end up paying Rs.20. Such unethical transactions can be prevented only when the organizations move into a system. Offering such a highly transparent system tailored for the Indian market is Benir E Store Solutions. The company sped its way to the industry pinnacle and forged a stellar reputation as an expert in the office supplies domain by blending the best practices of international players and the service level of the Indian buyers. Instead of amplifying its prices in comparison with other vendors in the market, Benir follows the strategy of providing 'Right Price for the Right Product'. "What we quote is what we deliver," asserts Hirji Narayan Patel, Managing Director, Benir E Store Solutions.
Surfing through the Peaks & Valleys
It is the hard work of Hirji & his commitment towards maintaining ethical transactions and integrity that has enabled Benir to grow in leaps & bounds. To emerge above the hurdles brought on by its steady growth, Benir expanded its infrastructure and warehouses. Likewise, Hirji has never hesitated to spend huge monies on the company's proficient IT team and portal's maintenance, which is clearly manifest from the number of upgradations it has gone through over the years. Built ten years ago on Java, the portal's backend system was migrated to .net five years back and it was revamped couple of years back to handle PAN India transaction by moving into an opensource platform. Today, the intelligent software's backend system plays a crucial role in assuring seamless service delivery with features that helps it to track all the delays countrywide, provide city-wise delivery reports and many more. Service excellence towards clients and managing SLAs being its core foundation, Benir today derives 38 percent of its turnover from its online portal business.
Our portal would utilize the details of supplies logged in by the clients to churn out a meticulous spend analysis for a nominal cost
"Every day there are some small challenges that come up. The good part is we are learning & growing," remarks Hirji. Rather than having a pyramidal organizational hierarchy, Benir works with very limited resources, who hold immense expertise about the market & buyers and have been associated with Benir for more than ten years. The fact that it has been growing year on year solely through referrals also plays an instrumental role in keeping its team lean. Over the past 15 years, Benir has marked its presence in the industry as one of the largest purchasers among the OEMs, distributors & stockists to an extent, where the bigwigs from international corporate offices visit Benir to understand the market scenario.