PolicyBazaar Raises more than USD 200 Million in New Investment Round Led by the SoftBank Vision Fund

Gurgaon, Haryana, India: ETechAces Marketing & Consulting Pvt. Ltd. ("ETechAces") which owns India's leading insurtech brand, PolicyBazaar.com ("PolicyBazaar") and India's leading lending marketplace, PaisaBazaar.com ("PaisaBazaar"), today announced it has signed for an over USD 200 million Series F investment round led by SoftBank Vision Fund, with participation from existing investors including InfoEdge (Naukri.com).
PolicyBazaar is India's leading insurtech brand and has played a pivotal role in redefining the way India buys insurance today. Since its inception in 2008, PolicyBazaar has been at the forefront of establishing online as a "go-to channel" for consumers to compare insurance products, offering them ease to buy instantly and helping them make informed decisions.
We are very pleased to welcome Softbank Vision Fund on board as our stakeholder. SoftBank's culture of backing disruptive businesses and industry leaders with long-term capital investment gels well with our own values and vision of creating a transparent and empowering financial products marketplace. We hope to gain a lot from their global footprint and experience
As per the Boston Consulting Group (BCG) estimates, digital influence on insurance purchases will grow to 50% for life insurance and 75% for general insurance by 2020. This translates to nearly Rs. 1,20,000 crore of new insurance premiums being digitally influenced by 2020. PolicyBazaar believes this will enable it to grow at a CAGR of 80%+ over the next three years achieving 10 million transacting customers by 2020.
Munish Varma, Partner at SoftBank Investment Advisers, said, "Over the last decade, PolicyBazaar has become synonymous with online insurance shopping in India. We believe that the Indian insurance market continues to remain massively under-developed and PolicyBazaar, supported by SoftBank's capital and ecosystem, is uniquely positioned to dramatically increase the adoption of insurance products in the country."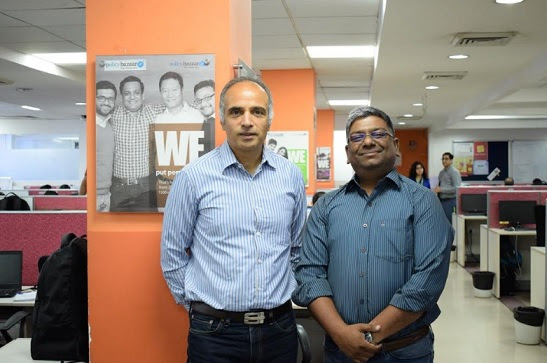 L to R: Yashish Dahiya - Co-Founder and CEO, Policybazaar.com and Alok Bansal - Co-Founder and CFO, Policybazaar.com
Yashish Dahiya, Co-Founder & Group CEO, EtechAces said: "We are very pleased to welcome Softbank Vision Fund on board as our stakeholder. SoftBank's culture of backing disruptive businesses and industry leaders with long-term capital investment gels well with our own values and vision of creating a transparent and empowering financial products marketplace. We hope to gain a lot from their global footprint and experience."